Dora Games! Free Simple Dora Online Games for Kids!
When I was designing this Dora the Explorer website, my goal was simple. Make a website that my kids would want to use on a regular basis! I think I have succeeded based on their enjoyment. I hope the same is for your child! What is more fun for a child than a game? Yes, of course the correct answer is games that feature Dora and her many friends!
Dora is one of those phenomenon's that really hasn't be duplicated or understood to any extent. What is it that makes Dora the Explorer enormously popular all across the globe and without fading away over time? Who knows! Besides, this fact makes it easy for us parents when deciding what presents to buy our kids at Birthdays or Christmas! I have plenty of resources if you are Dora The Explorer gift shopping!
I've included a fun interface for kids to play Dora games. The big buttons are fun and let them tell you which one they want to play. I've made it simple so let your child decide. You can ask them and simply let them point to the Dora character below. Each of the Dora characters below will link you to different, free, online browser based game. After you click the link, a new window will open, maximize the window and then let them play!
I don't recommend that you turn over the mouse until the game window is open and maximized. Once in the game, don't worry, they won't destroy your computer! Just make a few precautions like setting up their own account with limited access, remove most if not all the navigational buttons, keep the mouse buttons to left and right clicking only, and remember to turn off the printer! I have a list here as a guide to keep your precious computer safe! Most of all, let them have the freedom to explore because they can and will grasp the concepts of surfing the internet and leaning to use the mouse and keyboard. Let them learn while playing games!
Do you own an iPad or iPhone? How about an Android smartphone or tablet? We are seeing a real increase in the NickJr apps for Dora the Explorer. You can watch episodes of Dora, movies and Dora games for iPad or Android now in 2018. We are going to expand our section for tablets and smartphones where we will review apps and movies. If you haven't checked out Dora for iPad apps, we recommend you go to the Apple iTunes store and check out the selection there.


Check back! New games coming in 2018!
Parents, click on a character in the table below to play a free game. Each character will give you a different game so let your child tell you which character to click! Make it fun!

After clicking a Dora character below, a new window will open. These links will take you to popular well known brand website so don't worry! Click the expand button (the square symbol located at the top right corner of the window beside the red X symbol.
Let your child enjoy the game!
Expanded in-depth reviews of the best online Dora the Explorer games
One thing is for sure, if you're looking for free online Dora games there are plenty of options. These are light browser based games and do not require a powerful computer to play. I am attempting to list some of the best options that are definitely worth checking out. I've tried to include best ages along with what I consider the most common and popular. Educational elements will be noted as well. I feel with the ages of Dora fans, education value is important. Learning while having fun is a winning combination!
#1 Top Pick - Dora Saves Map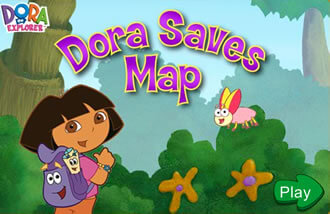 This is our favorite Dora the Explorer game and it has the all important educational aspect as well. Dora Saves Map is a mini adventure game that will help your child learn some listening skills as Dora will make suggestions along the path of the game. Your child can control Dora by using the arrow keys for moving left, right, up and down. Also your child will use the space bar to enable Dora the Explorer to jump.
Controls for this game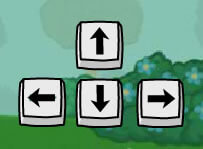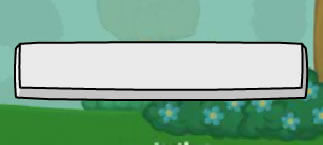 Dora Saves Map features a big cast of Dora characters including star which give Dora special help like making bridges to pass over canyons. The in-game screenshot below shows the design and layout which is common in a number of Dora games. You can see the tree branch with stars above it. Encourage your child to collect stars. Give them little hints about how to use the keyboard and directional keys to get those high up stars. There is nothing wrong with challenging your child to explore right?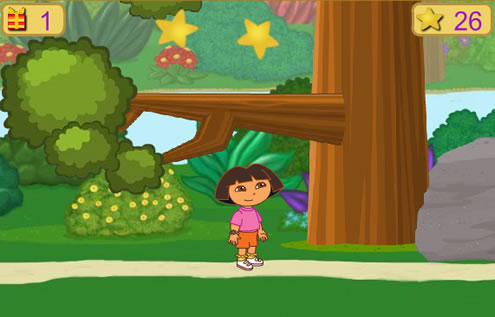 Dora Saves Map encourages your child to follow commands and instructions. If Dora stops moving, a voice from Dora will tell your child what they should do or what button they should press. This makes it easy to play even for the youngest children so keep that in mind.
In the photo below you can see Dora the Explorer next to a flower. Encourage your child to jump onto the flower and see what happens! The game is all about adventure and Dora can climb high and up to the clouds where there are more stars and goodies!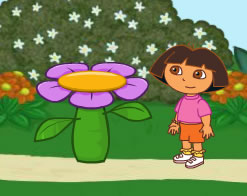 Want to play Dora Saves Map? Just click on Boots!
#2 Top Pick - Dora's Playtime with the Twins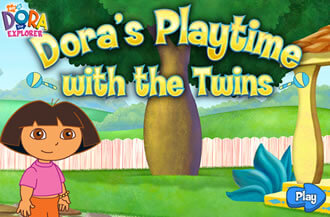 This game is simple enough that if your child is very young they will have a good time playing. It's not just for young children though! Dora's Playtime with the Twins will teach your child listening skills and basic decision making. These types of educational elements are common in many of the other Dora games.
Controls are quite simple and will require only the use of the mouse. Your child gets to interact with her baby twins!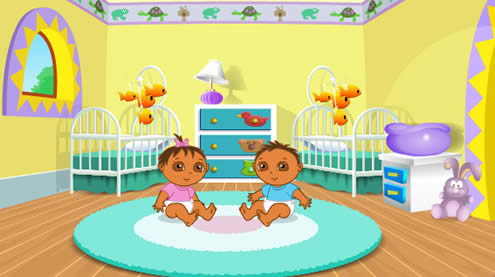 Simplicity is what makes most of these games perfect for children. There is enough variety in the controls to be challenging yet it's still easy for children to learn. In Dora's Playtime with the Twins, your child can learn how to use a computer mouse!
The photo below is a screenshot from the game. In Dora's Playtime with the Twins, your child can click one of the buttons, like the shaker for example, and it will be placed in front of the twins. The point of the game is to interact with the twins. There is nothing more to it than that!

Below you can see the baby food. Get your child to click on the spoon and drag it to the baby's mouth. Guess what happens?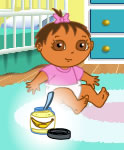 This is one of the best games to help your child's skills with a mouse. They will learn to listen and the names of the game objects. It's simple and just perfect for a first time player.
Want to play Dora's Playtime with the Twins? Just click on Dora the Explorer!
#3 Top Pick - Dora's Mermaid Adventure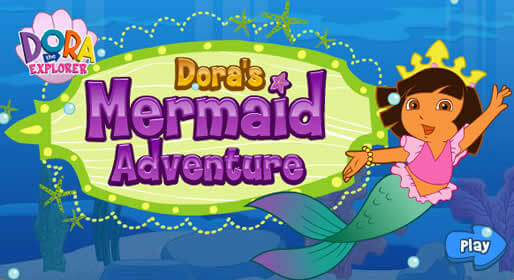 One of my daughters favorite all time Dora games is Dora's Mermaid Adventure. Certainly this one lasted longer than any other Dora game and month after month she enjoys it! Kids can watch movies over and over and some games have the same appeal to children it seems.
There is some social education in Dora's Mermaid Adventure because it does teach them about the environment and cleaning up garbage. In this game the terrible octopus is leaving garbage all over the beach and ocean. Playing wise, it's pretty simple for children to control. They use the mouse to move Dora around the beach and ocean and click and hold the mouse button to activate the vaccuum. The sound effects for this Dora game are fantastic and there is a nice rewarding "pop" sucking sound with each piece of garbage that is removed.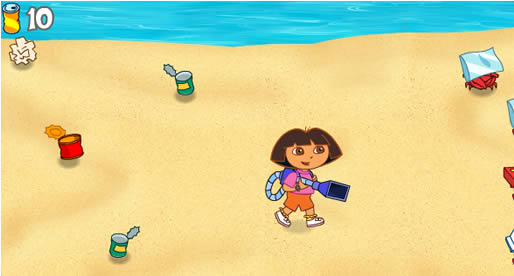 The game starts on the beach and after cleaning it up and accumulating a score, Dora finds a crown which turns her into a mermaid. The next level of the game is underwater and Dora is now a mermaid. On completion of the underwater level of the game, Dora shows to total score from both levels and the mermaid castle is saved from the garbage! So there is a sense of achievement for children as they can progress through the game towards the ultimate goal of saving the mermaid castle. There is a nice story here and kids gravitate towards it.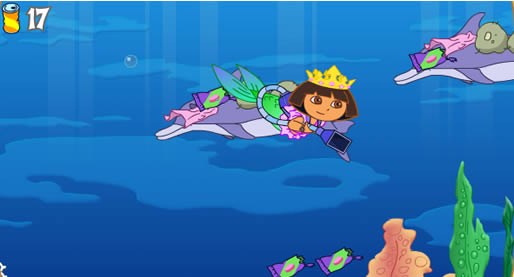 Want to play Dora's Mermaid Adventure? Just click on Dora the Explorer!
Featured Dora Game - Swiper's Spelling Book Game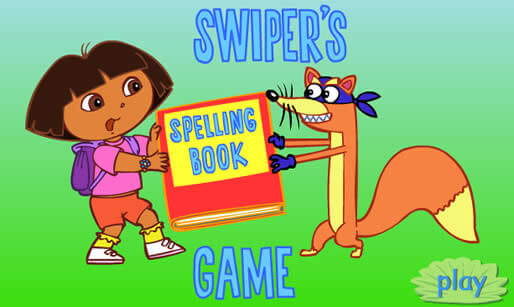 Learning games for kids should definitely be a priority. When you combine Dora in an activity, in this case a game, your child won't think of it a school work or educational. It's very true and it's why I highly recommend that you try Swiper's Spelling Book game. The more they play, the better speller your child will be!
Swiper's Spelling Book is about learning to spell simple 3 letter words. A picture is shown and Dora says what the picture is. The letters are also shown to spell the word. Aha, but all is not safe when you have Swiper the fox around. Yes, that rascal fox steals those letters and your child is left to figure out how to spell it. It's not impossible and during the game you don't have to enter actual keys from your keyboard. Instead this game allows a child to click on a letter to see if it is part of the word. This provides a level of discovery which creates interest in most children.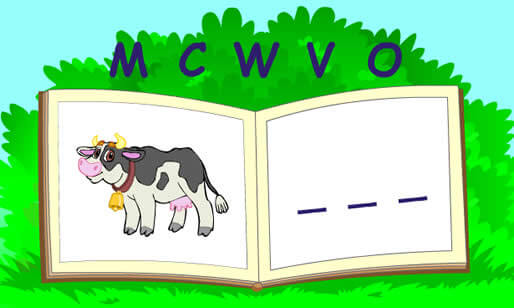 As you can see above, the gameplay design makes it as easy as possible for your child to spell the word. One of the best aspects of Swiper's Spelling Book is Dora's voice and her words of encouragement. If your child picks the wrong letter, Dora says "try another one" in a nice way. This game makes things easy and less frustrating for children because the order of the letters doesn't matter. A child can click on any letter and it will insert on the blank space.
So if your child is a bit older, this is one of the best educational Dora games that you can play in my opinion. Fun is essential but adding in some learning is what makes Swiper's Spelling Book so good. This game helps children with their memory and understand of simple words and letters.
The only minor negative point is that the game is long and your child may not want to play it to completion. In fact they won't be able to complete it. There doesn't appear to be an end point so you will need to step in and manually end it. As parents we know the signs when our child is getting bored and it shouldn't be a problem. There are lots of other games so just move onto something else!
Want to play Swiper's Spelling Book? Click on Dora the Explorer below!
Dora Games available for the Nintendo Wii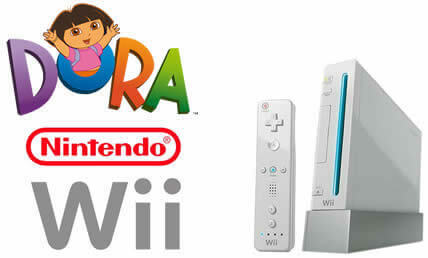 Aside from the many free online browser based games, you might want to buy a console Dora the Explorer video game instead. The browser based games are short and quite light. A console version is going to offer longer playing and nicer gameplay graphics. There are a couple great Wii games that are worth checking out. Nintendo Wii isn't a new console and as a result, these games are pretty cheap. You might pay somewhere between $10 and $25 for one of these games.
Dora Saves The Snow Princess
If you don't own a Nintendo gaming console, no problem. Dora Saves the Snow Princess is available for the Nintendo Wii, Playstation 2 and Nintendo DS.
The story this game features a mean witch who put a spell on the Magic Snowy Forest and now it is starting to melt. With help from new friends like the Snow Fairy and everybody's favorites Boots, Swiper and Pirate Piggy you'll need to build a snowman, paddle a canoe, steer a dogsled and ride Pegasus. The game involves Dora and friends having to save the Snow Princess and the Magical Snowy Forest while they try a defeat the Mean Witch. If you care about educational elements, Dora Save the Snow Princess features 12 educational mini games. Activities include ice skating, snowboarding and skiing. There is also gameplay which allows grown-ups to use a controller too!
You should be able to find Dora Saves the Snow Princess for less than $20. It appears to be popular because out of 65 Amazon customers who bought the game, it has a rating of 4 out of 5 stars.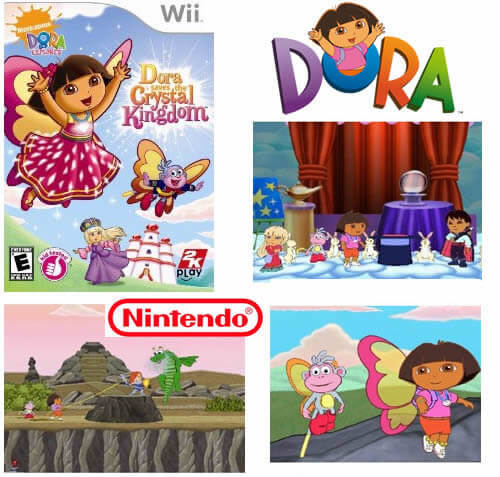 Dora Saves The Crystal Kingdom
A greedy King has taken the crystals that make Crystal Kingdom colorful. Using a simple and fun gameplay, your goal is to help Dora and friends find the stolen crystals and help bring color back to the world. If it sounds complicated, it's not. Children will enjoy the variety of gameplay which includes sequences where they will fly with Butterfly Wings. While flying they can perform tricks with a magical wand, get a bird's eye view over giant flowers, and bounce off sparkling crystals.
The goal of the game is simple for children to understand so even young ages can have fun. The Crystal Kingdom is something that children will be familiar with because it's quite typical of what they would have seen on the television episodes. Gameplay wise, the use of the gamepad and controller is quite basic. During the game Dora does a lot of exploring in hopes of finding the color crystals. The locations include a butterfly cave, dragon land, and cloud castle. Control wise, children will use the controller to climb, swing, jump, and slide. A second controller can be used by parents as part of the Helper Feature.
This game will cost less than $20 at this point. It might help to know that out of 22 customer from Amazon who bought it, they gave it four out of five stars.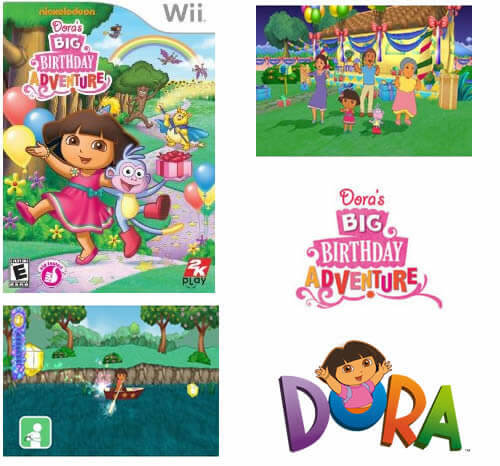 Dora's Big Birthday Adventure is about getting Dora and Boots to the birthday fiesta. In typical Dora the Explorer fashion, your child will navigate Dora through various levels including the Dancing Forest, Wizzle Mountain, Sea Snake Lake and other areas. Of course there are many challenges along the way that include squirting honey, flying monkeys, slippery bananas, and sneezing tree holes. What child wouln't love those challenges?
Using the Wii Remote, your child will be required to climb, jump, slide and run through various obstacles in this game. There are in-game tutorials that pop-up to show how to use the controller(s) during certain parts of the game which is very helpful. Dora's Big Birthday Adventure has many enjoyable features and in particular I'm sure your child will be super excited to ride a magical unicorn and ride on a rainbow.
It's available for Wii, Nintendo DS and Playstation 2. This game will cost less than $20 especially from places like Kijiji or craigslist.
Dora Games For Nintendo DS / DSi
Nintendo DS is a popular hand held gaming device and there is a good selection of Dora the Explorer games. Without going into great detail, below we have listed some of the best games for the Nintendo DS system. You will notice that some titles are the same ones that are available for the Wii. Realize though, that the DS version will be much less fancy than the Wii or Playstation 2 or PC version of the same game in terms of graphics. With the portability of the Nintendo DS / DSi you do lose some of the processing power that brings greater eye candy.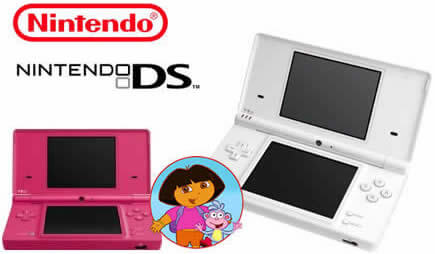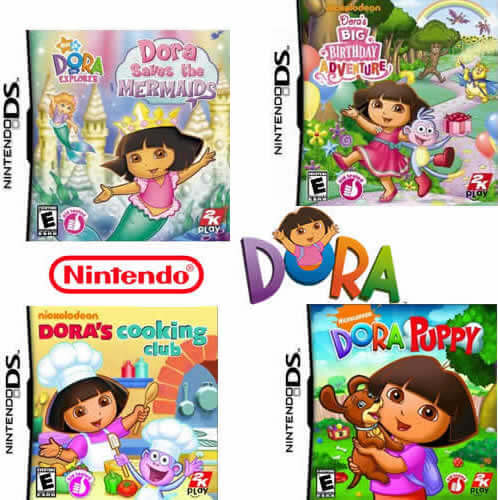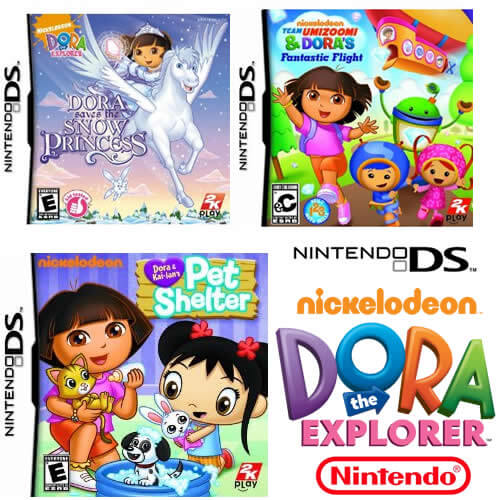 Board Games
Of course Dora games aren't just limited to the electronic, computer, or video game variety. As you might expect, there are a wide variety of board games that feature Dora the Explorer and her friends. If you're shopping for a present, you can't go wrong with one of these options. We own about half of the board games below and trust me when I say that the children play them often. Often times during vacation we might go camping or on a trip without electricity. A Dora board game is the perfect solution. Below we are going to list and show you what's available. Consider most of these timeless classics!
Memory Game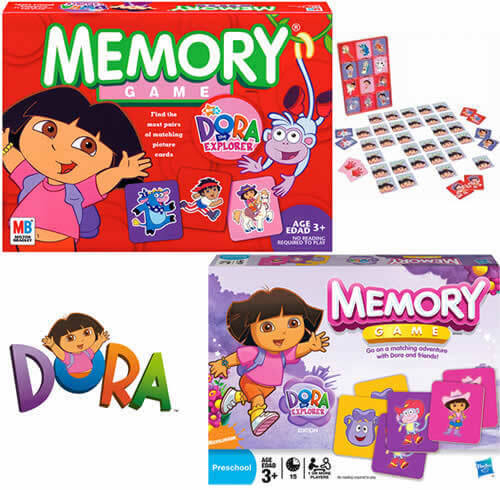 Not familiar with the Memory Game? This is obviously a Dora the Explorer themed version of the classic. In the box are 72 cards which feature Dora and her friends including Boots, Diego, Backpack and Swiper the Fox. There is no required reading to play! It's a perfect Dora board game to keep your child happy and learning at the same time. It's all about flipping over cards, two at a time, trying to get a match. The most matching pairs wins the game! It costs around $20 to buy. If you want, you can find a simplified and shorter free online version of the Dora matching game on websites like Nick Jr and Treehouse TV.


Candy Land featuring Dora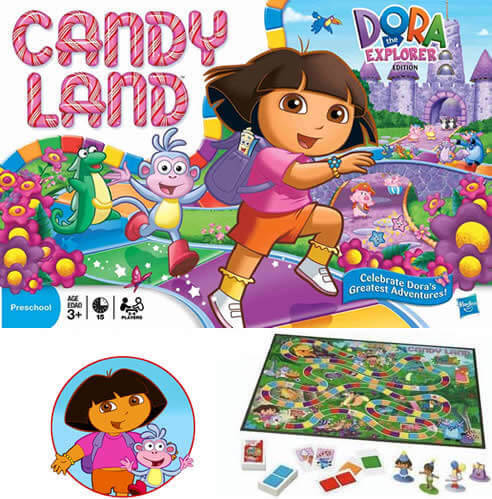 One of the best board games is Candy Land. What makes this the best version is that it features Dora of course. Same classic board layout and design, but with the Dora friends and theme. This is my personal pick if you had to pick only one board game to buy. You can play with 2 to 4 players so it's perfect for a small or large family. Also an older child will still have some fun with this one so siblings can play each other regardless of age difference. Just be sure to keep track of the cards and pieces as they can easily go missing. Trust me on that one! You child can play as Dora, Diego, Boots or Backpack. It's available for less than $20 and I highly recommend it.
Chutes and Ladders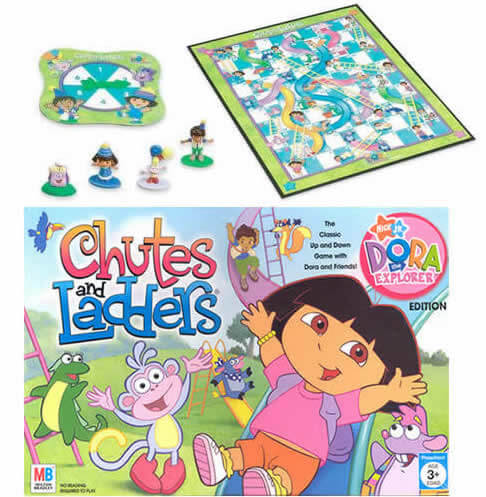 Ever heard of snakes and ladders? Chutes and Ladders is the modern day version. This version obviously is in the Dora theme but the same layout, design and enjoyment can be found in this package. Each player chooses their character and children can play as: Dora the Explorer, Diego, Boots, Backpack or Map. Just a warning that children can get very frustrated with the big slides down to the bottom of the board. Be prepared to explain that winning isn't everything. Most of the times it's laughter when playing Chutes and Ladders, but as you may know, you can easily go from zero to hero so be considerate! Good luck!
Dora Game House featuring 8 different games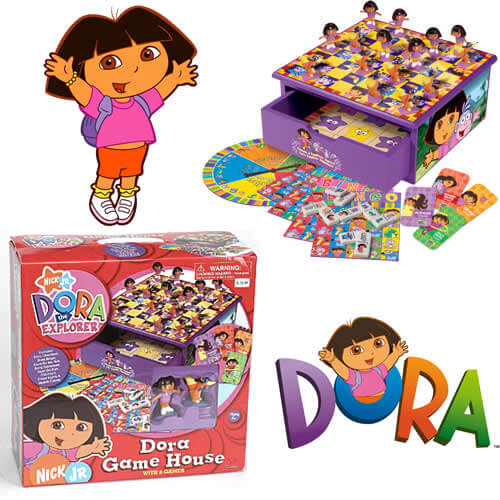 My children have this game and I can honestly say it's packed with an incredible variety of game choices. Eight different games are packed into this box which is both a blessing and a curse. There are a LOT of pieces as you can see from the retail box. The good thing is there is a big sliding drawer that you can put everything into. I would say this game box gives you the opportunity to teach your child about cleaning up after themselves and the concept of losing things that they don't put away.
The box itself is wood so it's sturdy but heavy. With there being so many different game pieces, I would suggest you separate the games by using a ziplock or clear bags for the pieces. Bingo for example is a bit of a clean up nightmare and you may simply want to keep it out of reach rather than keeping it in the drawer with everything else. The Dora and Swiper figurines for the checkers game also have crowns which need to be put away so they don't get all over your house. You will pretty much need to keep track of your children if they are playing the Dora Game House which may be a deal breaker for you. Messes aside, there are hours and hours of entertainment here. You will have to teach your child some of the game which means this is a better option for slightly older childres. The card games in the box are more suitable for the younger Dora fans.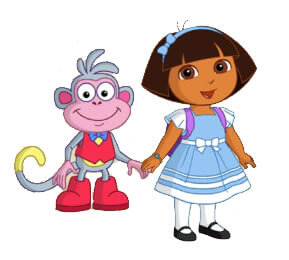 Dora the Explorer and her best friend Boots say have fun!