About Our Website
Disclaimer: This site is not affiliated with Nick Jr, NickJr.com, Nickelodeon or Viacom International Inc. in any way. The Dora The Explorer® trademark, logo and products on this site are the property of Viacom International Inc. We do not in any way, claim to represent or own any of the trademarks.
---
When I was designing this Dora Explorer site, my goal was simple. Make a website that my children would enjoy. I am a strong believer as I hope you are, that the computer is a powerful learning tool for young minds. Do my kids like this website? I think I have succeeded based on their enjoyment here and I hope the same is for your child! As a parent, you should be navigating this site, but allow them to choose wallpapers or coloring pages. Let them point and pick! In the Dora Explorer games section, as a parent you should click the game links and let them play after you have opened the second window containing the actual game.
Dora is a phenomenon. The long standing success and love from kids can't be explained and it really hasn't been duplicated in recent memory. Dora The Explorer has a popularity and lasting appeal that has survived over a lot of years. What is it that makes her enormously popular all across the globe with every child? Whatever the reason, I say this is a good thing. It sure makes buying gifts and toys much easier and I know the smiles are guaranteed. Expect at least a couple years of your child be obsessed with Dora.
If you need to narrow down your search for the perfect Dora Explorer present, I have plenty of resources. I hope to be your one stop Dora gift shopping resource! I will be posting updates as I arrange fantastic Dora toys and gift ideas to make your shopping fast, convenient and easy.
I'm looking for other Dora the Explorer or children website for link exchanges. Please email me here and we can arrange something beneficial to both of us!
Here are a few suggestions for you to ensure a child won't destroy your beloved computer and settings.
Tips for child proofing your computer:
create a limited user account in Windows. They can't alter any setting on their own!

slow down the mouse movement speed.
limit the buttons on your mouse to only the left button if possible. Easy to change these settings in Windows control panel. I didn't change the left or right buttons on my mouse, but I've disabled the mouse scroll button!
change the speed of the click to register. In control panel mouse settings you can make the double click slower or faster. Slow it down and make it easier for your child to double click icons to open windows.
change the navigational layout of your browser (Internet Explorer or Firefox). I only include the back button and refresh buttons. Less buttons, less problems.
educate your child on the red X and the square buttons at the top right corner of your browser. They learn quickly! My two year old knows when there is a problem, click X. A little more time and she understood what the box button does. Yes it makes the games and pictures bigger and easier to see or play!
turn off your printer! Learn from my experience and save ink and paper. In fact, before you turn it on, be sure to check what documents are waiting to be printed. It will take only a few times of forgetting this before you run to the store for a new ink cartridge.
tell them about what the space bar is and the arrow keys. They won't need to know more than those to play most if not all games.
keep the desktop clear of clutter! Only have the essential shortcuts (like the one to this website...hint hint) on the desktop so the child will know when the click it, where they will go. They do understand these simplified steps.
be patient! It may take time, but your child will indeed become independent on your computer. Allow them to learn new things from playing the many games available to them online!
My goal is to maintain fresh new content to hopefully become your first choice when you go looking for a Dora Explorer website!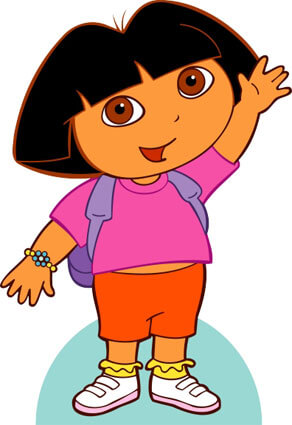 I hope your kids enjoy visiting our website!