Dora Party Tips - Dora Birthday Cake Ideas
As parents, we've all had that stress when it comes to planning and preparing a child's birthday party. We have two children and we have a tendency to go big when it comes to birthday parties. Why not? When kids are young, these are special moments to celebrate.
It's also important to have fun with the planning. With a bit of pre-planning, you can have a wonderful Dora party for your child. The details won't matter to children because they won't notice. They are going to be too busy with having fun with their friends to notice anything missing or out of place. There is a small window of time given the age group that love Dora so we say go for it now while you have the chance!
We're here to provide some practical tips, product ideas, and activities for the perfect Dora birthday party. Don't worry, we've provided some inexpensive ideas so you don't have to overspend to make this happen.
First we should talk about the all important birthday cake. When it comes to the right Dora cake, there are plenty of options. You can use a Dora mold for a cake of you can find a bakery that does custom cakes. You just need to send them an image and they can easily put the print onto a cake. We've done this with ice cream cakes and it works very well.
A popular choice these days is having cupcakes in place of a cake. We've opted for cupcakes at a few of our birthday parties and it's a great option. It's a bit easier to deal with in terms of quantities and having both chocolate or vanilla cupcakes ensures all party goers will be happy. You will be happy to know that you can buy Dora themed cupcake papers! We have details below.
If you have the budget, you can get pretty much Dora anything in terms of decorations. A multitude of Dora the Explorer party decorations are available online from many different retailers and we've listed some of the most popular ones below.
Color wise, it's a good idea to focus on the main purple Dora color for decorations napkins and table cloths. If you hit the main accent Dora colors, it will go a long way to capturing the right feel for the party.
I also think it's important to include the other Dora characters in your party plans. Most kids also love Boots, Tico and Diego as well. Boys are going to be part of a Dora party so try to include as many Diego decorations as possible. The second most popular character is Boots so try to make this another choice as well.
There are plenty of Dora music cds that you can get as well. The familiar music and songs will play a big role in the overall theme of the party. These music cds can be bought for cheap from places like Amazon and there is even a Dora party songs cd that will be perfect of fun games like musical chairs or limbo dancing.
Thinking of getting a Dora Pinata? Click here! It's not always possible to have a pinata but without question kids of all ages love them. You need enough space which is often times just not possible. Next you will need a very solid hook to hang it from. Have an idea about what it will be hanging from because the loot may pull a hook out of a ceiling. No, not a joke. This happened to us! Make sure to let the youngest children swing first and maybe even let them swing twice.
Make a Dora Birthday Cake or buy one!
There are a few ways to create a Dora cake for your child's birthday. You can buy a mold like the one shown here. You will need to add some colored icing to the top and you can have a great looking birthday cake. The Dora shaped pan shown below is about $25 USD. If you're talented with icing, you can buy Dora Cake Topper Decorating Kits which come in a few different varieties.
If you don't want to make one yourself, places like Dairy Queen or local bakeries can make custom designs. Often times it's as simple as sending a Dora Explorer image or scan. The store can simply take that image and duplicate it on the top of the cake. These are called edible images and if you are making your own cake, you can buy your own Dora edible image just for this purpose.
To make you cake even better, if you have small Dora and friends figurines, go ahead and sanitize them a place on the top of the cake as well. If a bakery is making your cake, provide them the figurines before they start on the cake or just add them yourself after the cake is made.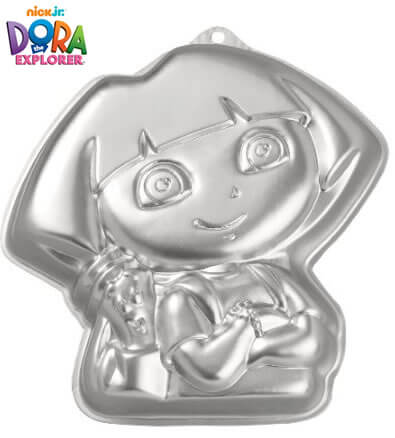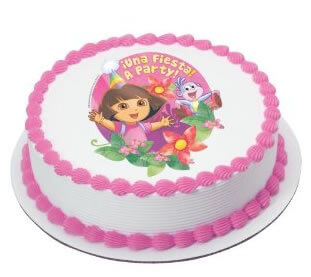 As mentioned, there are "edible images" which you can buy and simply place on top of a cake. This is a simple solution and it can transform any cake into a Dora cake. Best to order these online because they are hard to find.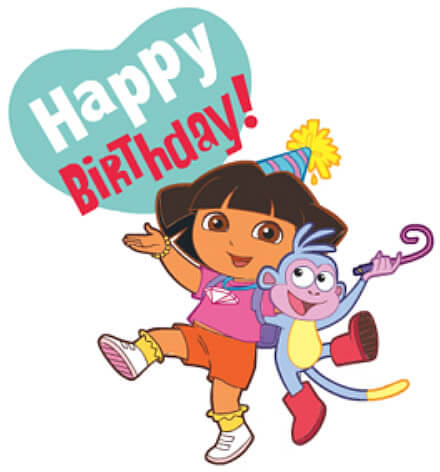 Free Downloads
Kids love to get involved in either making their party invitations and some of the printables below allow them to do just that. We have also include some activities and printables for the kids while they wait for their cake or food. How about a Dora placemat which doubles as a coloring page? Sounds fun! Here is a collection of party do it yourself resources!
Dora Birthday Party Invitations
The excitement for your child begins with invitations. Let them create and color!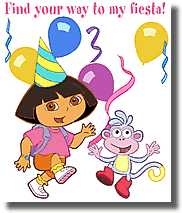 Click on image to download these party invitations! Print them and fold them. Everyone getting one of these invitations will know that you're planning a Dora themed birthday party!
Dora Birthday Card Printable
No coloring involved! Just print, cut out and fold. There is space on the card for coloring and writing on the inside.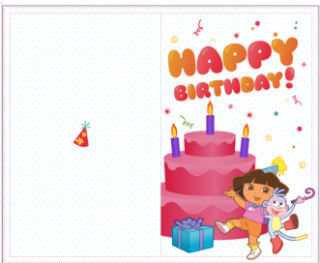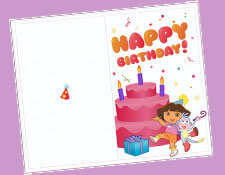 Straw Decorations
These are great! Just print out this page, cut out and slide onto straws. You can do this before the party and it's perfect for a Dora party theme!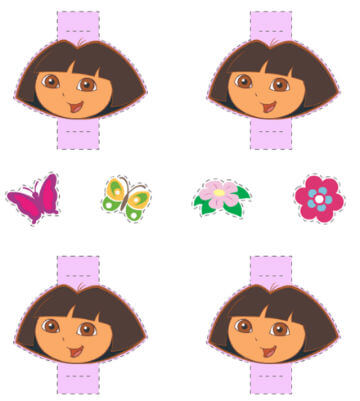 Dora the Explorer Coloring Page Placemats
Kids won't get bored waiting for their food or cake. Just make sure that the coloring activity starts before the food and drinks begin! Lots for them to color and there are 3 different placemats to choose from.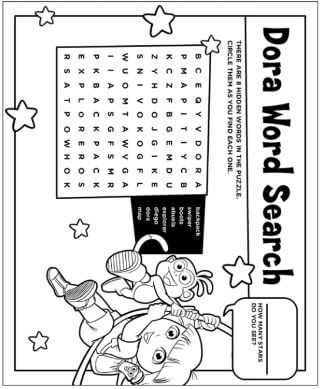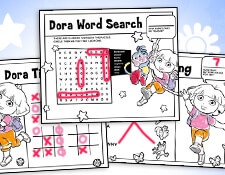 Dora Explorer Coloring Fun Birthday Card
This isn't just any Dora Birthday card. It's a coloring page at the same time! You can give it to a child as is, or you can color it before you give them their present!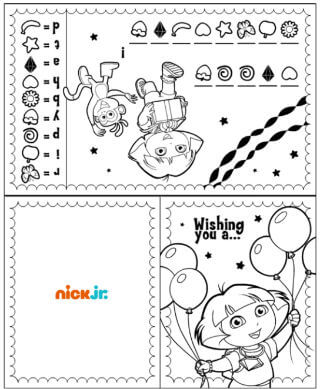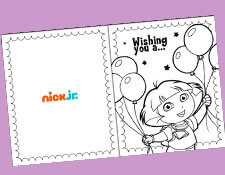 Here are some of the top rated and best selling
Dora Party Products!
Pinata Tips: Most kids put a pinata at the top of their favorite party activities. Of course there are a wide range of Dora Birthday Party pinatas. Here are a few of the more popular ones available. When buying any pinata I would advise that you soften it up. These pinatas are generally taped on the corners and are virtually indestructable especially for the young kids who are going to be at the party. I recommend that you poke some extra holes which created some weak spots. Afterall, we are talking children who aren't baseball sluggers. After a while it's going to get tiring! Let them each have a turn taking a swing or two and then consider using the strings or make some additional holes in the bottom to ensure a quick ending.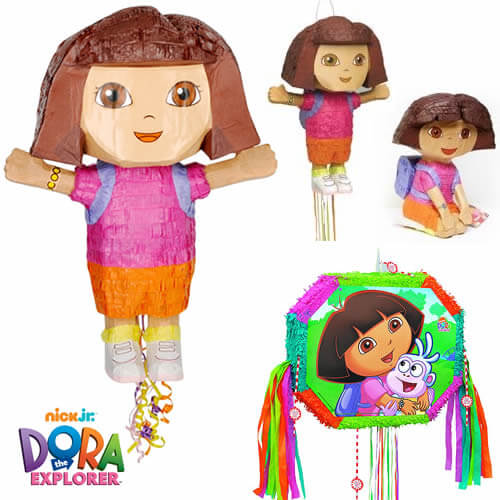 Balloons: Sure you can get generic ballons for your childs birthday but nothing is better than getting one Dora balloon. There are lots of great foil balloons that will last much longer than regular latex balloons. Here are some images of various balloons that are available to buy.