Dora Backpack - A Shopping Guide
With the popularity of Dora Explorer there is no shortage of options if you wanted to buy something for your child. If you can think of any kids product, chances are you can find a version of that product with Dora the Explorer on it. Looking beyond toys, there are more pratical options available.
With daycare and elementary school, there are a wide range of Dora backpacks available from various retailers. As I've experienced with my own children, this is a great purchase. If you have a daughter who is going to pre school or kindergarden for the first time, a backpack it a worthwhile purchase. A Dora backpack as a gift at Christmas or a birthday present is a sure hit and it will make it a memorable event for your child. They will be so proud and happy to bring it to school!
We hope to provide you with quality shopping ideas and provide you enough details so you can make the right choice. We can appreciate that you may be looking for a backpack that won't be used for school and we've tried to list multi-use products here. There may be some confusion because you may be looking for a plush toy that is the Backpack character from the show and not an actual backpack. In that case, we encourage you to visit our toys page because we have more products listed there.
Everyone knows who Dora the Explorer is and kids love to show off their Dora branded backpack! There are enough options available so you can find something more travel friendly that has an extendable handle or that comes with wheels on the bottom for rolling rathing than packing. So if you choose wisely you can get something that can be used for school and for vacations.
In terms of where you can buy one of these Dora backpacks, it's the main stores such as WalMart which carry extensive Nick Jr products like Dora the Explorer. Online you have even better options with places including Amazon.com, eBay.com and Nick Jr official merchandise store. If you want to save money it may even be worth exploring used options on websites like craigslist.
Price wise, there is a wide range of options. Some of the backpacks are like mini sized (9-inches) and can be priced around $10. If you go a bit more larger like traditional backpacks with sizes up to 14-inches, prices range from $10 to $20. The more versatile and specialty backpacks that can double as luggage which have wheels and extendible handles, you can pay $25 and up. For the most part you should be able to find one suitable for school for $20 and under.
We will be adding more backpacks during 2018 so please check back!
Here is a more travel friendly option. This backpack has wheels with extendable handle making it easy to move regardless of how heavy it is. It features Dora and Boot with a glossy style finish.

It sells for $15. It has adjustable straps and a drink holder on the side. The rigid plasic handle and wheels may make it less idea for school purposes.
This is an official Nick Jr. backpack. It features Dora and her forest friends. Not without Boots of course!

Measures Aprox 16 Inches Tall
Made of Codura
Zippered Pockets on the Outside for Extra Storage
Adjustable Shoulder Straps
attatched lunch bag for added convenience
full size so it will fit just about anything your child want to pack with them
price: $20
This is a "plush" Dora backpack and you can buy it for $13 on sale. Normally this sells for a much at $19. This is an official Nick Jr. product.

Measures 13" tall
Zip closure with aluminum water bottle in side pocket meaning drinks will stay colder for longer.
Materials: Polyester
This is an official Nickelodeon product. It is 16" tall backpack and it features a spacious main compartment that can hold books, papers, binders and other large accessories. Two smaller pockets on the front of the bag can be used to store pens, pencils, calculators and other school supplies. The top pocket is features a bold and bright "Dora the Explorer" lettering. The other artwork includes an embroidered Dora and Boots image of them jumping and having fun together. Two side pockets include one that is a mesh material design and other side pocket has a velcro closure can hold water bottles, phones or small accessories. The adjustable straps are well padded and make it easy to wear this backpack for comfortable carrying. It's the perfect backpack for going to school, day care, sleepovers, travel and more. The bag measures 16"H x 5"W x 12"L. It is currently priced starting at $12.
| | |
| --- | --- |
| This backpack is a smaller option at 12-inches in size. It features Dora and Boots as the main artwork design. There are multiple zippered pockets and a side pouch for a drink. With its smaller size and lighter weight, it's perfect for preschool. The price is $15 currently. | |
| | |
| | |
| --- | --- |
| This backpack is priced at $18 and is 10-inches. It features a unique design with Dora's legs protruding from the back! This is a feature that kids just love! Check out the photo for a closer look at this unique design. You can see an enlarged image by clicking on the smaller picture. Dimensions: 11.3 x 7.9 x 1.5 inches; 6.4 ounces which makes is super compact and light weight for the youngest Dora fans. | |
| | |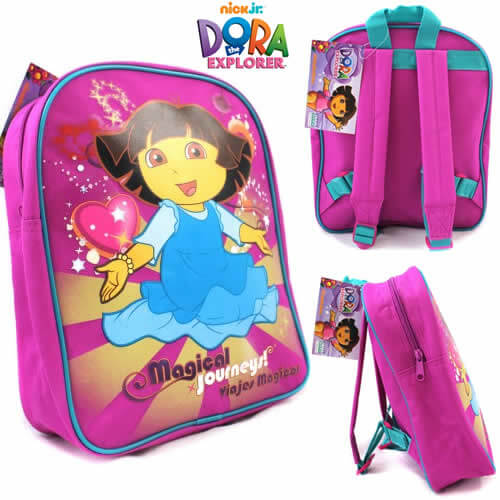 © Nick Jr.
This type of backpack is perfect for taking to school. Adjustable straps, easy to clean fabric and of course the Dora picture make it perfect for a daughter! This particular bag is slim without added side or rear protruding pockets.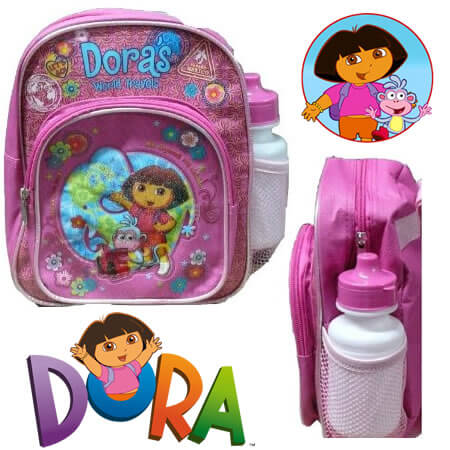 © Nick Jr.
This is an example of a "mini" Dora backpack. This one will cost only around $10 and your child will love it. It has a couple different compartments and mesh holder for drinks cups. Customer reviews say this one is a winner and size wise it's perfect for younger Dora fans!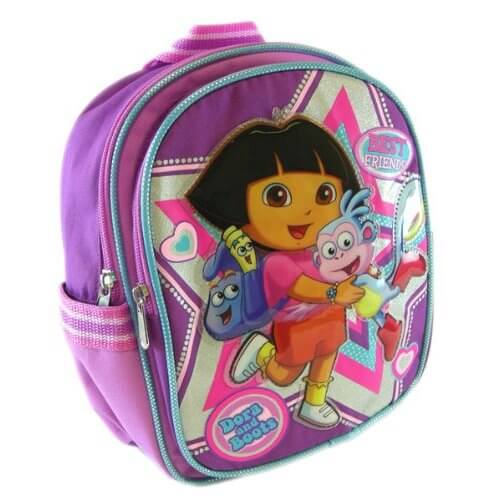 © Nick Jr.
Colors and design is what makes them special. Dora and Boots are very popular in many designs. This backpack featured above is dominated with a big image of Dora along with a slim and compact design.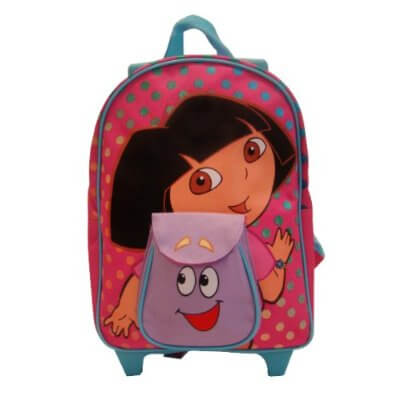 © Nick Jr.
This design is more suited for travel rather than taking to school. One downside is the balance point on these minimal feet that are to balance the weight inside the compartment. We like this backpack above because it shows Dora sporting her own!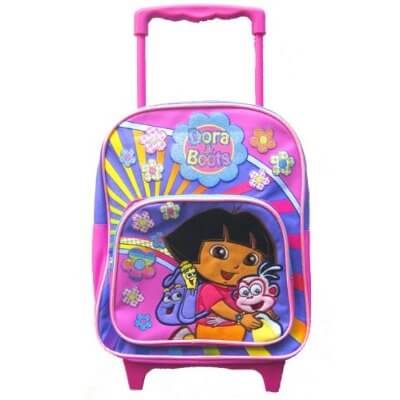 © Nick Jr.
A rolling style Dora backpack. This is rare and hard to find but we thought it would be nice to include here. Judging by the photo, it looks like this is a 9-inch rolling backpack with an adjustable handle for easy tilt and roll.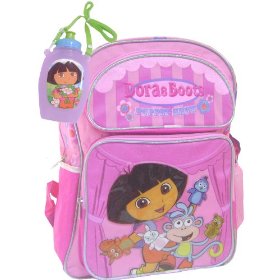 © Nick Jr.
Dora backpack with matching water bottle. Have you noticed that most of the backpacks seems to show Dora and Boots? We will add some more variety provided we can find some!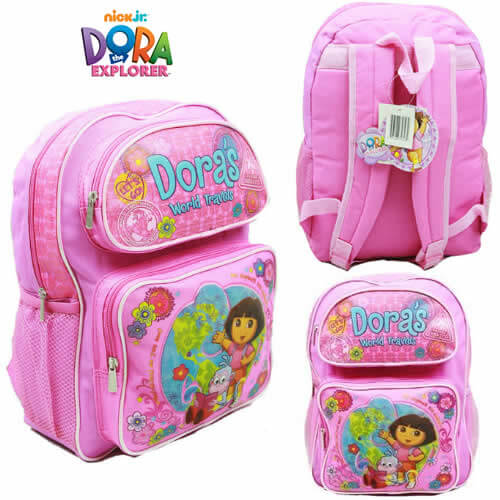 © Nick Jr.
This backpack is sturdy with quality seams. A unique feature of this particular bag is that it has three zippered pockets. There is just more space thanks to the added pockets, making it ideal for an older child who is attending elementary school. Even with any extra weight being packed, the padded straps will provide comfort for your child if they are walking. This 14-inch sized backpack will cost around $18 USD but it may be hard to find..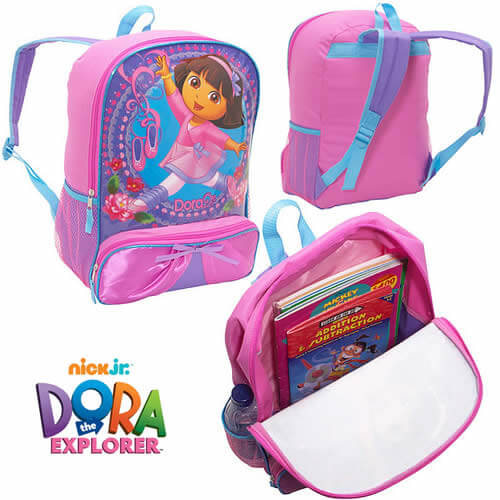 © Nick Jr.
This backpack is full featured with extra compartments, drink holders on the side and plenty of space for books and papers. The design features a full image of dancing Dora. This one costs around $12 USD.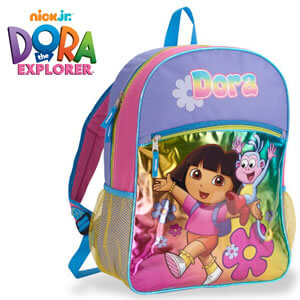 © Nick Jr.
This backpack has one main zipper compartment and a front zipper compartment. It also has padded shoulder straps and 2 mesh side pockets for storages drink containers. Design wise it's very similar to other popular backpacks with Boot and Dora together. This one costs around $10 USD.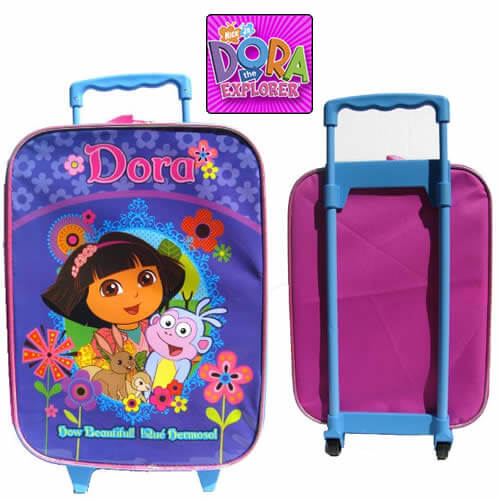 © Nick Jr.
This particular Dora backpack is less for school and more for travelling. It has an extendible carry handle and it has wheels. We call it a backpack but it's more like a piece of luggage. It's more suited for a carry on or for family travel. As a result it's more expensive and you will pay around $26 USD.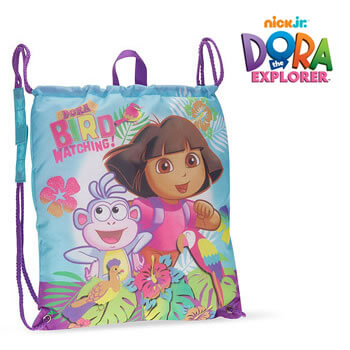 © Nick Jr.
This is a rare Dora the Explorer backpack. They call this a synched backpack. It's more like a Dora bag which can be worn like a backpack or carried by the top handle. My kids really love this style of bag and use it often for day trips or taking to the swiming pool. It's compact and not bulky. It's only costing around $8 USD.

Kids love toys but at time it's nice to get them something a bit more practical. A quality backpack is something they will love because it's Dora, but it will also be useful and used much more than just another toy.
Something as simple as putting on a backpack featuring their favorite character Dora can help them be at ease when heading out to school. Trust me I've been there trying to get a reluctant child out the door and telling them they can show off their Dora backpack to their classmates can help motivate them.