Watch Dora - Dora Episodes Guide!
From my experience raising two daughters, when they love a show or movie, they can watch it over and over. It's quite a phenomenon and it's one thing that most children have in common. Regarding watching Dora episodes, you have a few different options these days. Old school Dora DVD videos are still around (see our full Dora DVD guide here) but now you have the option of either renting videos or watching full episodes from virtually every season from streaming services like Netflix or Amazon. The best part about watching episodes online is that your children can use a smartphone, tablet, computer, gaming console or set top box to for viewing. It's added versatility which can come in handy if your children are getting restless in public somewhere and you need some quick and easy entertainment for them.
Based on my own personal experience, the nagging children asking to watch Dora isn't something that passes in just a year. No, this will last a couple or more years. Don't expect the Dora the Explorer adoration to disappear in a few months!
Watching Dora online makes a lot more sense now than it did even a couple years ago. With the generous data plans available from providers these days, letting your child watch online via Netflix or Amazon is a lot more practical and less expensive. With the fragile nature of DVD discs, streaming episoldes online means there is literally nothing your child can damage!

Cost for online streaming isn't overly expensive beyond your mobile data plan. If you make use of wifi, then you're just looking at the subscription fees or rental fees from places like Amazon. As an example, Amazon.com has all the Dora the Explorer episodes available to watch via their "Amazon Prime Video" service. That is a monthly service or you can also just buy/rent individual episode on their own. There are 9 Dora season which means a LOT of watching. You will pay about $1.99 per episode if you're not part of the Amazon monthly service which can add up in a hurry.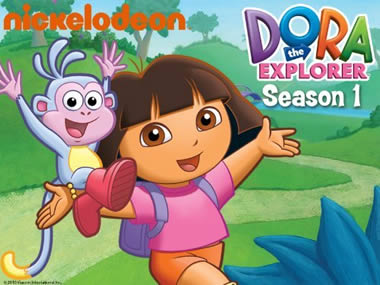 There are a LOT of Dora seasons, episodes and movies available to buy or watch online. So I want to help you with picking the best of the bunch. It's safe to say there are no "bad" episodes of Dora, but certainly some are more memorable than others. Regarding movies and videos, you're putting money out so naturally making the right choice is more important. We have some Dora movie reviews below.
YouTube is a popular video stream platform, but a big word of caution here. DO NOT go onto regular YouTube for watching Dora episode or movies because it's not what you think it is. What you will find is that people have edited voices on the videos, made jokes, added swearing and other bad things that you simply don't want your child exposed to. Trust me on this one. If you want to see safe free Dora videos and episodes online, then you can check out YouTube Kids for Apple or Android devices. Check out the app here. The legitimate Dora videos get removed from YouTube because of copyright infringement; all that's left are the modified adult orientated videos.
When shopping for physical Dora DVDs or Blu-ray videos, there is a great selection available online. Prices are very reasonable and you should pay anywhere from $7 USD to $15 USD for newer Dora movies. We also suggest looking on craigslist for Dora the Explorer collections that people might be selling for cheap. Keep in mind that scratched discs may be a risk when looking at used.
We know having an episode guide it important, so please enjoy and download this PDF file here (source: howstuffworks.com) with a listing of every Dora the Explorer Episode from the first four seasons! We will be adding the newer seasons as well in the coming weeks.
Dora The Explorer Episodes Guide:
Season 8 (2013-2014)
Release Date:

Episode Name

Episode Description

Watch
March 18, 2013
Dora and Perrito to the Rescue

Episode 1

Dora and her dog head to Big River so they can rescue her best friend Boots.

March 20, 2013
Puppies Galore

Episode 2

Dora joins Boots, Benny and puppies as they try to save Little Boots from a bear.

June 3, 2013
Catch that Shape Train

Episode 3

Dora and Boot race to save the runaway train. Circulo the steering wheel goes missing!

June 5, 2013
Kittens in Mittens

Episode 4

Dora reads a nursery rhyme to Lucky the kitty.

September 22, 2013
Dora's Great Roller Skate Adventure

Episode 5

Dora and Boots stand up to the mean bully Big Wheeler in a roller skate adventure episode.

September 30, 2014
Verde's Birthday Party!

Episode 6

There is a big mess after a flood and Dora and Boots need to clean up quick before the birthday party!

October 2, 2013
Dora's and Sparky's Riding Adventure!

Episode 7

Sparky the horse isn't feeling well. Dora takes him for a ride but look out for Swiper.

October 28, 2013
Dora's Rainforest Talent Show

Episode 8

Benny is in trouble and Dora needs to save him so he can perform at the talent show.

October 30, 2013

Dora and Diego in the Time of Dinosaurs

Episode 9

Everyone loves Diego and he is in this episode. Features Baby Jaguar in a dinosaur adventure episode.

November 25, 2013
Dora's Ice Skating Spectacular

Episode 10

Everyone loses their ice skates and it's up to Dora and Boots to help win them back.

January 24, 2014
Riding the Roller Coaster Rocks

Episode 11

Three friends are together in this adventure in the magical forest.

March 10, 2014
Dora in Wonderland Part 1

Episode 12

An amazing adventure with Dora and Boots as they go through a magic mirror and into Wonderland.

March 10, 2014
Dora in Wonderland Part 2

Episode 13

Part two features the conclusion of the magical Wonderland adventure with Dora and Boots.

March 27, 2014
Dora's Museum Sleepover Adventure

Episode 14

Dora sets out to save the Prince who was turned into a Lion.

June 5, 2014
Dora's Super Soccer Showdown

Episode 15

Everyone loves soccer and so does Dora. Her team needs to beat the monsters so they can win the big cup.

April 20, 2015
Dora and the Very Sleepy Bear

Episode 16

Everyone love animals including Dora. Watch Dora and Boots try to get baby bear home before she falls asleep. Poor bear!

April 21, 2015
Let's Go to Music School

Episode 17

Dora loves music! Join her on a journey as she goes to music school.

April 22, 2015
Dora's Fairy Godmother Rescue

Episode 18

Dora love to help and in this episode she has to help fairy Godmother's magic wand.

April 23, 2015
Dora's Animalito Adventure

Episode 19

More animal adventures for Dora and Boots! They must find and return the animaltios to the home in the copal tree.

April 24, 2015
Dora's Night Light Adventure

Episode 20

Little baby chicks are afraid of the dark. Dora races to bring a night light to the library before it's too dark for the baby chicks.
| | | | |
| --- | --- | --- | --- |
| Release Date: | Episode Name | Episode Description | Watch |
| Oct 2014 | Dora Saves the Big Red Chicken | Big Red Chicken accidentally turns into a roast chicken during the magic show and loses his wand. Dora and Boots will have to enter the magic land and go to the barn to get the magic wand and turn the roast chicken into a chicken again. | |
| Oct 2014 | Dora's Zoo Adventure | Dora and Boots feed the hungry animals at the zoo. | |
| Sept 2014 | The Crystal Kingdom Discolored | Dora will have to go to crystal kingdom to save the colors that are missing. | |
| July 2014 | Dora's Graveyard Explore | Dora and Boots will have to explore the graveyard to save Diego. | |
| June 2014 | Dora's Super Soccer Showdown | Dora travels to Brazil to play in the Big Cup Soccer Tournament. | |
| March 2014 | Dora's Museum Sleepover Adventure | Dora brings a magic cape to the Prince's castle to break a spell. | |
| March 2014 | Dora in Wonderland | When Dora's kitties run through a magic mirror, Dora ends up in Wonderland. | |
| Jan 2014 | Riding the Roller Coaster Rocks | Dora, Boots, and Abuela are exploring the rainforest, looking for the secret door to Adventure Forest! It's a magical forest amusement park that Abuela used to go to when she was a little girl! She loved riding her favorite ride, the Roller Coaster Rocks. Abuela's always dreamed of riding the Roller Coaster Rocks one more time. Dora, Boots, and Abuela are going through Adventure Forest, riding tea cups, log rides, and swinging trees as they make their way to the Roller Coaster Rocks! | |
| Nov 2013 | Dora's Ice Skating Spectacular | Dora and Boots must help the Snow Princess defeat the Ice Witch in a skating contest in order to win back everyone's skates. | |
Where you can watch free Dora the Explorer Episodes on TV?
Some channels are part of your cable package, other channels may require addons to your package. Obviously you pay for cable so in that sense these are not "free" but they are available on regular cable television and thus you can record as many episodes as you like. We've tried to cover current television schedules for US and Canada with more countries hopefully being added sometime soon.

Dora the Explorer episodes can be watched daily on Nick Jr. On weekdays, Nick Jr shows 2 episodes per day, running them twice each day. On Saturday one episode runs two times and on Sundays, two episodes run twice. Times are CET. Weedays at 2:35pm, 2:45pm, 5:35pm, 6:00pm. Saturdays at 5:35pm and 6pm and on Sundays 5:35am, 5:55am, 5:35pm and 6:00pm. Set up your PVR and you're all set for a lot of enjoyment for your child.

Watch Dora on Nickelodeon in the United States. Times are ET. Daily at: 9am, 9:30am, 1:00pm, 1:30pm on weekdays. On weekends at: 7am.

You can watch Dora for free in Canada on Treehouse. This channel is available on most cable providers in Canada, although you may have to add it to you package. Times are ET. Daily weekdays at: 11:45am and 10:41pm. On weekends at: 10:41pm. Obviously with episodes running later in the evening, we recommend that you set up your PVR for those episodes. Before long you will have a nice collection recorded for repeated viewing!

NickCanada, which is essentially NickJr of Canada, also runs regular Dora the Explorer episodes. Times are ET. Weekdays at 10:15am. Don't have Nick? Check here.
Where you can watch Dora The Explorer Episodes online?
There are good free options also. If you visit Treehouse and NickJr there is hours worth of Dora episodes to watch. No commercials, free and safe! All Dora's friends are included in these videos.
We are spending time in 2018 to update this content. Here is a list of what we are currently working on:
A listing of the top selling Dora videos in North America and world wide.

Updated listings of all Dora episodes to make it easier to know what season and episodes you may be missing on your PVR.
Top picks for Dora the Explorer Blu-ray and DVD movies.